Categories:
Other Brands
Your love for the Camellia Bag is about to expand, because there is a newer version just around the corner. Meet the Chanel Camellia Studded WOC from the Spring Summer 2018 Collection Act 2. As you might already know, Camellia is one of the label's iconic symbols and it's emotionally connected with the founder Gabrielle Chanel. So carrying the Camellia WOC is like owning a piece of Gabrielle's love story, owning a piece of the brand's history.
The Design
Just one dose of Camellia is sufficient to give you that fashion-boost that you need so desperately for the Spring and Summer seasons. Just take a closer look at the bag; the signature flower has been beautifully stitched all over the body. It's screaming CHANEL without intentionally bragging (we don't like to show off right? Let the bag to the job).
The studs are the true miracles for this season because we've already seen and talked about the Camellia WOC without the studs. The little round-shaped studs are embellished on the critical areas to create that chic'er style. It actually highlights the flower, making the Camella even bolder than it already was. And of course, the center features the signature smooth CC logo as the finishing touch. Oh and what makes it even more desiring is that its made from calfskin – a leather with minimum maintenance and maximum luxury. So is this love or is it love?
The Interior
Just like any Chanel WOCs, this version is also designed with multiple compartments like patch pockets and credit card slots. There is enough space to fill-up your daily needs.
The Prices And Sizes
Style code A82336, measuring 4.8' x 7.6' x 1.4' inches, priced at $2300 USD, $2750 CAD, €1980 EUR, £1790 GBP, $3330 SGD, $17400 HKD, $3120 AUD, ¥274320 JPY via Chanel boutiques.
More Images And Colors
comnum(0) tbcount(0) tbcount(407)
Categories:
Other Brands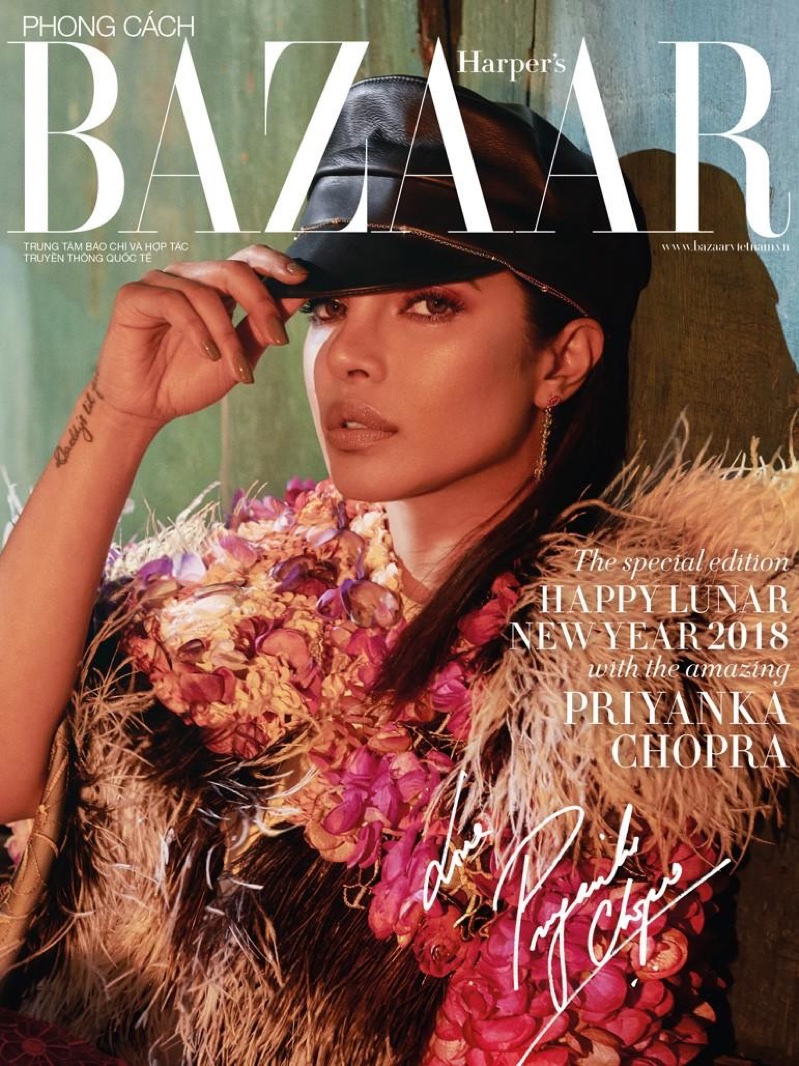 Priyanka Chopra on Harper's Bazaar Vietnam February 2018 Cover
Actress Priyanka Chopra graces the February 2018 online cover of Harper's Bazaar Vietnam. Photographed by Greg Swales, the 'Quantico' star poses in a colorful frock. For the accompanying spread, Priyanka turns up the glam factor wearing a luxe mix of dresses and gowns. Stylist Roderick Hawthorne selects pieces with ruffles, fringe and sequins for the fashion shoot.
Related: Priyanka Chopra Poses in Glamorous Styles for Vogue India
COVER SHOOT: PRIYANKA CHOPRA FOR HARPER'S BAZAAR VIETNAM FEBRUARY 2018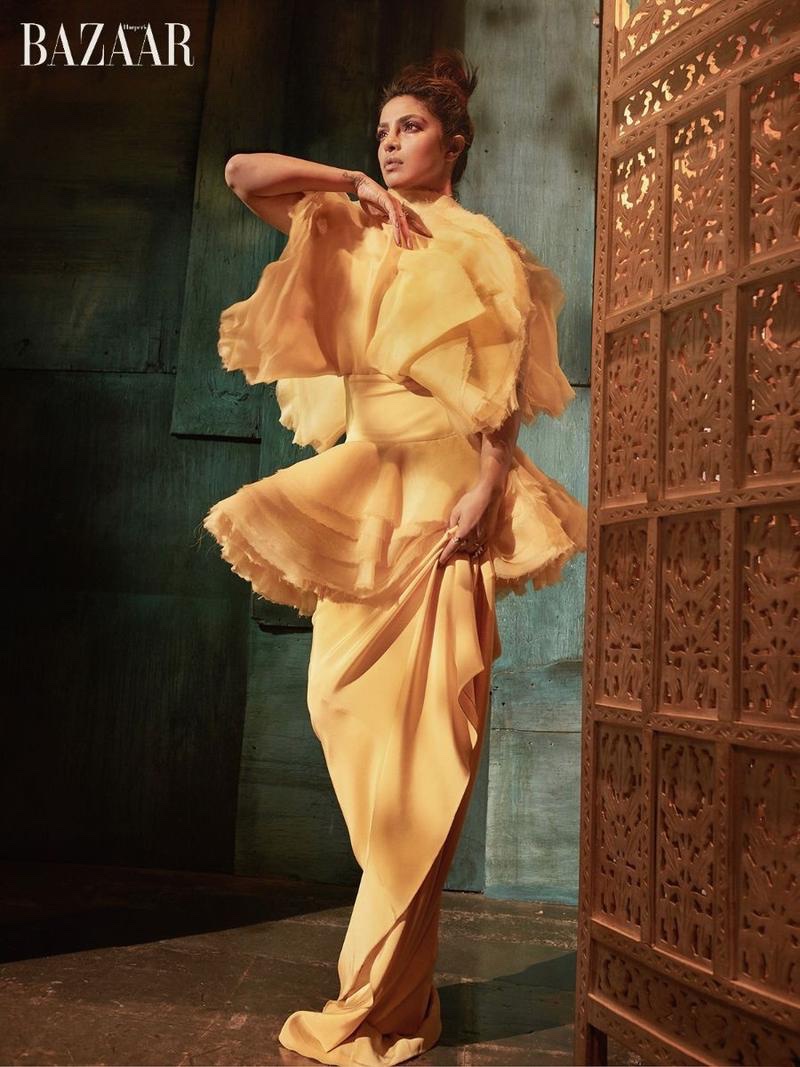 Actress Priyanka Chopra poses in yellow gown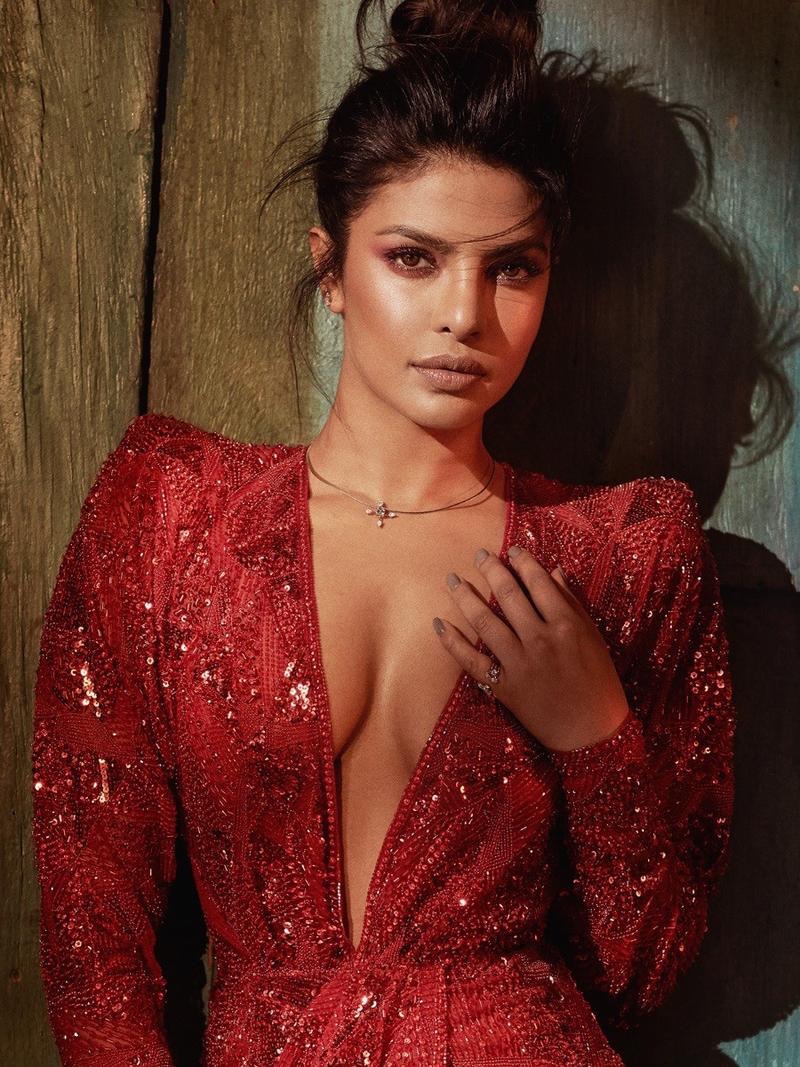 Looking red-hot, Priyanka Chopra poses in sequin embellished dress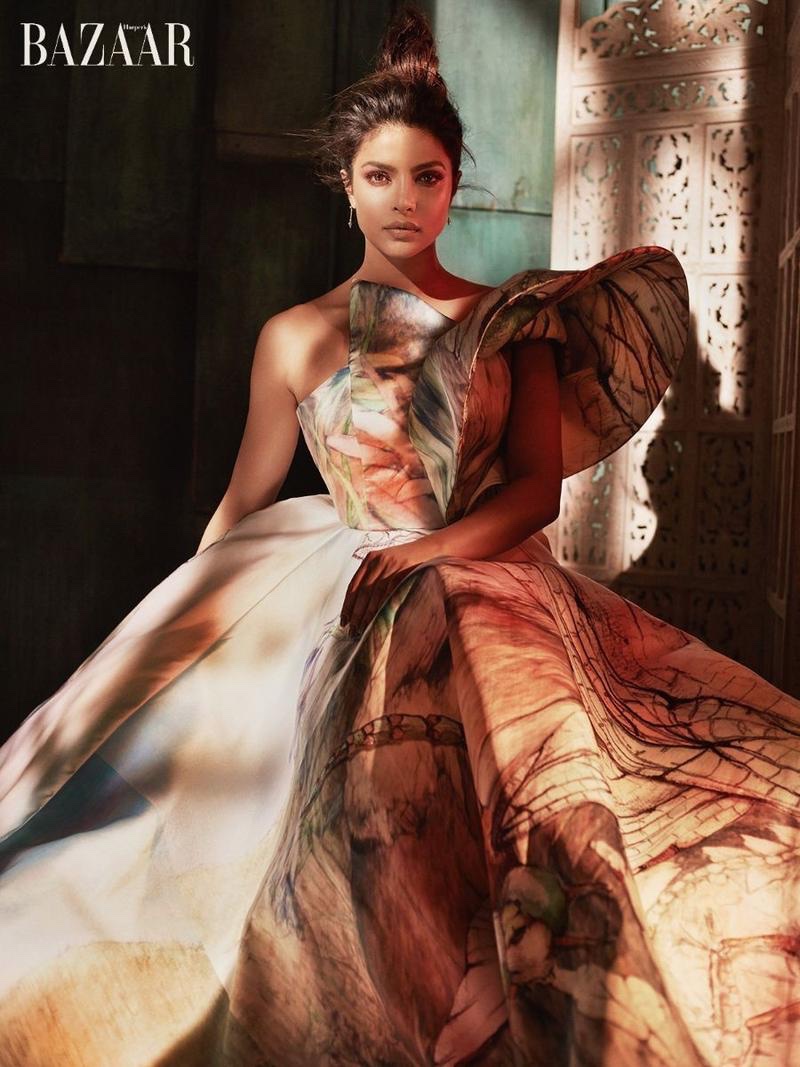 Priyanka Chopra poses in a sculptural gown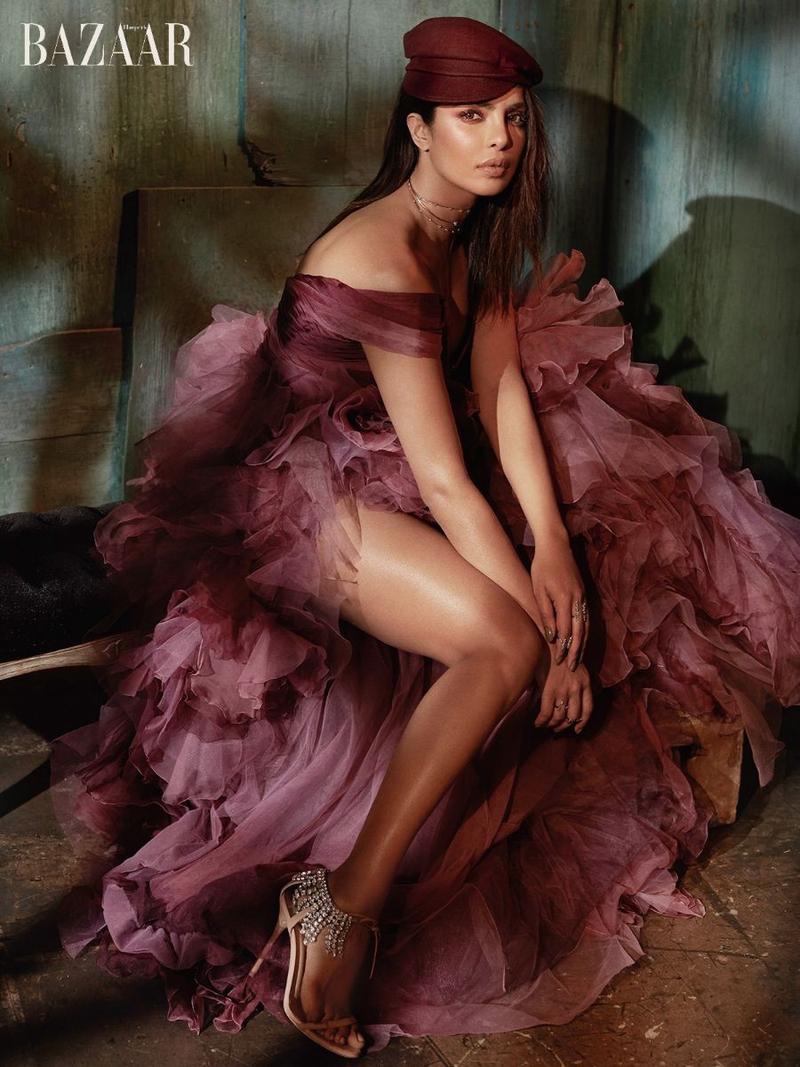 Flaunting some leg, Priyanka Chopra wears purple gown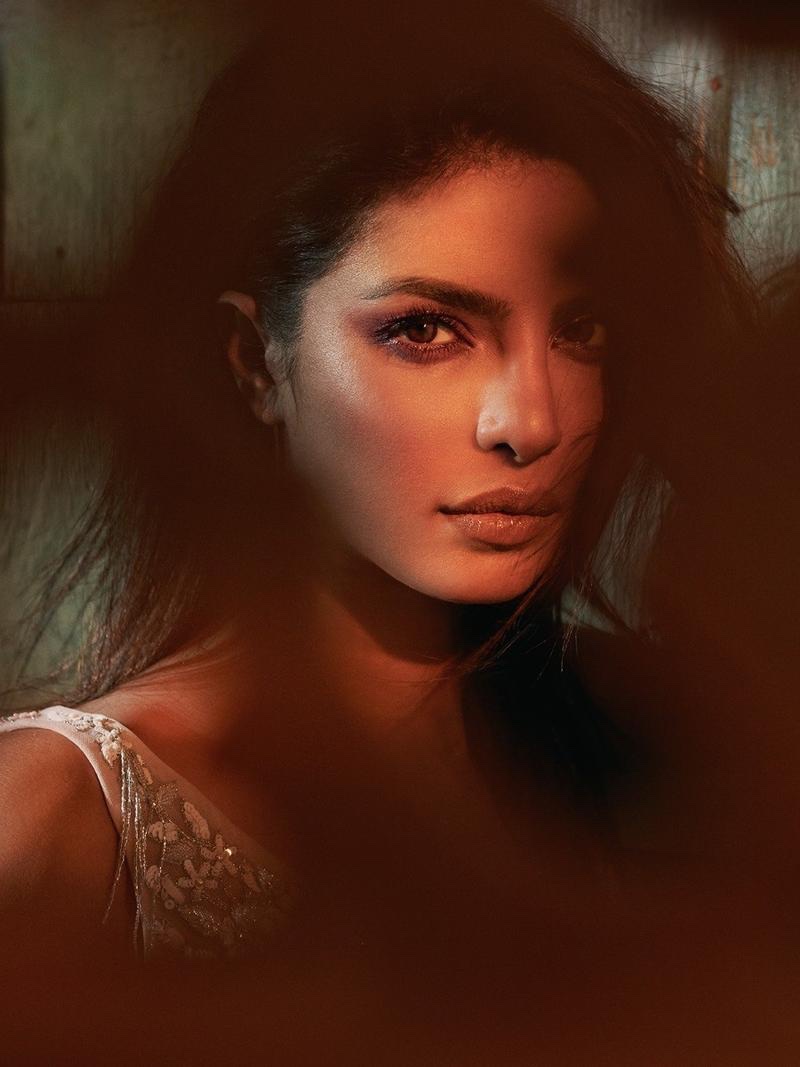 Ready for her closeup, Priyanka Chopra stuns in this shot
comnum(0) tbcount(0) tbcount(368)
Categories:
Other Brands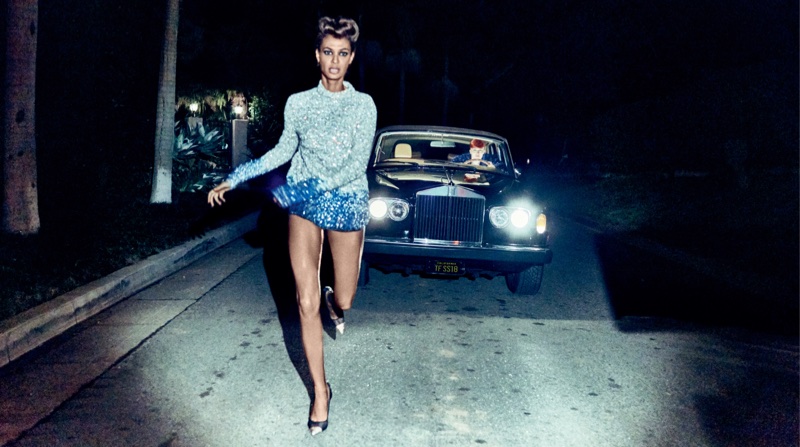 Joan Smalls stars in Tom Ford's spring-summer 2018 campaign
Tom Ford taps famed photographer Steven Klein to capture his provocative spring-summer 2018 campaign. Captured at the night and daytime with a vintage car, the advertisements star Karen Elson, Joan Smalls and Imari Karanja. Male models Adam Senn and Ferando Cabral also join the cast. The girls sport pompadour hairstyles to go along with colorful styles including cocktail dresses, leather jackets and fitted blazers.
Related: Tom Ford Channels the 80's for Fall 2018
TOM FORD SPRING/SUMMER 2018 CAMPAIGN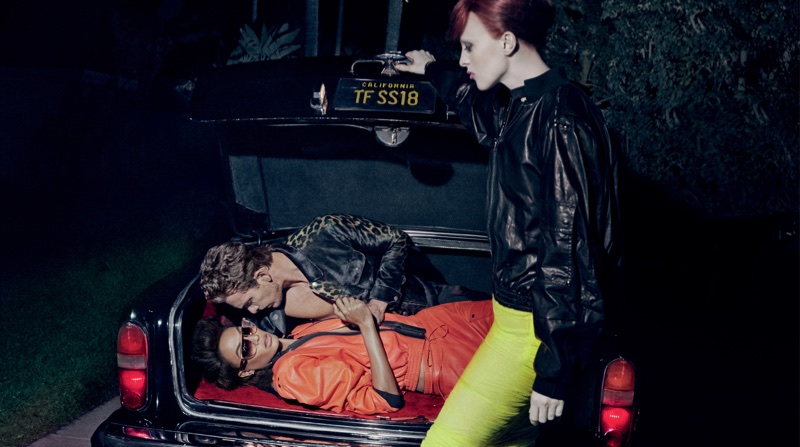 Posing in a car trunk with Adam Senn, Joan Smalls fronts Tom Ford's spring-summer 2018 campaign with Karen Elson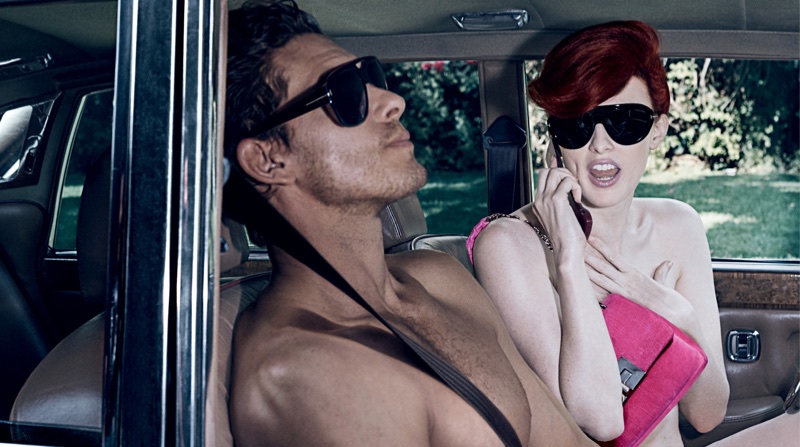 Karen Elson poses with Adam Senn in sunglasses for Tom Ford's spring-summer 2018 campaign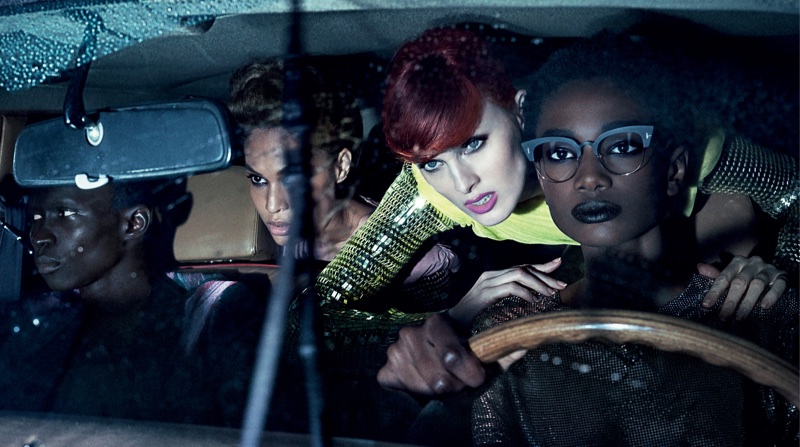 An image from Tom Ford's spring 2018 advertising campaign with Fernando Cabral, Joan Smalls, Karen Elson and Imari Karanja
comnum(0) tbcount(0) tbcount(348)
Categories:
Other Brands
The Celine Studs Collection is a new Spring 2018 Line. The handbags are quite different – like the Oversized Studs Bag that we've just shared. These bags need to be tested through time, to see whether it can join the classics. But here's the new addition; the Celine Studs Cabas Bag.
The Design
Just like any Celine handbag, this Studs Cabas Bag is solid. It's also squared, streamlined and straightforward. Even tough there are studs crafted around the shopping bag, the overall look still feels minimalistic and simple. The logo of the house has been printed in tiny lettering on the bottom center front of the bag.
The bag is definitely spacious and it's supported with two leather handles for hand carry. It's made from calfskin, which is a durable and strong leather, and there is no worry about babying the bag.
The Studs Cabas Bag is perfect for the shopping days, weekends or on days when you need an oversized handbag to carry all your necessities. The single color and the timeless look is ideal to match with any casual outfits, and can be carried in any seasons.
The Interior
It's obvious that this shopping bag is spacious. The interior features a zipped pocket and double flat pocket. It's also lined with suede calfskin.
The Prices And Sizes
Measuring 14' x 15' x 5' inches, priced at $3700 AUD via Celine boutiques.
More Images And Colors
comnum(0) tbcount(0) tbcount(318)
Categories:
Other Brands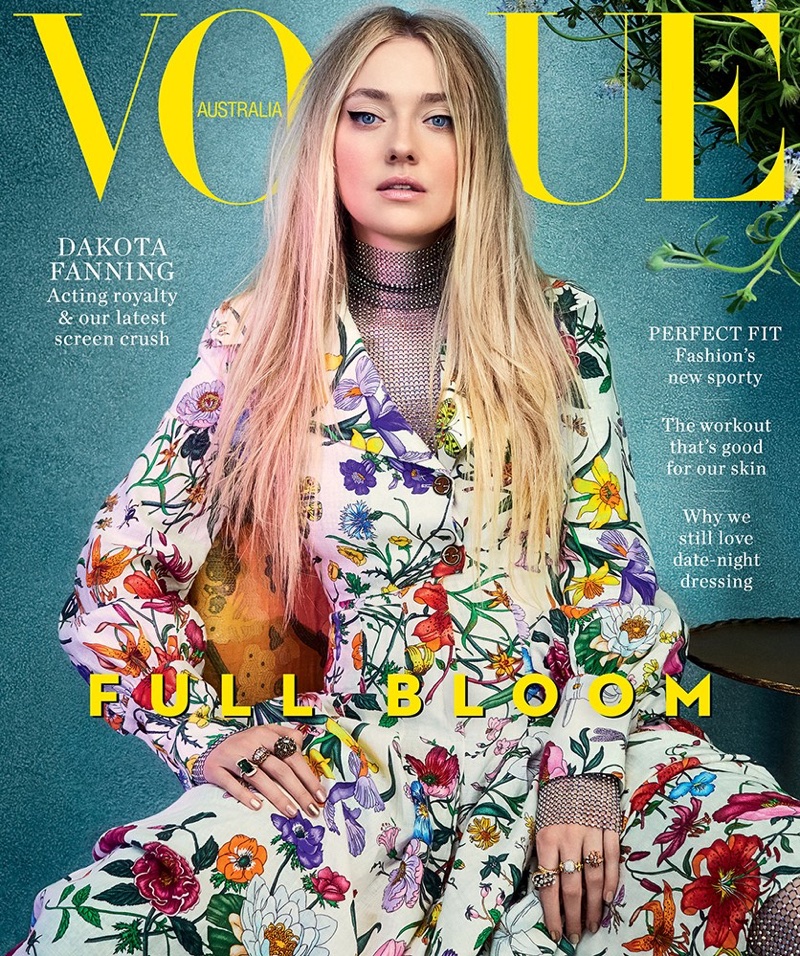 Dakota Fanning on Vogue Australia February 2018 Cover
Actress Dakota Fanning graces the February 2018 cover of Vogue Australia. Lensed by Emma Summerton, 'The Alienist' star is in full bloom wearing a floral print dress from Gucci. Inside the magazine, Dakota embraces chic ensembles from the spring collections. Stylist Natasha Royt dresses the blonde wearing designs from the likes of Alexander McQueen, Louis Vuitton and Prada.
Related: Dakota Fanning Poses in Pretty Pastels for Marie Claire UK
COVER SHOOT: DAKOTA FANNING FOR VOGUE AUSTRALIA FEBRUARY 2018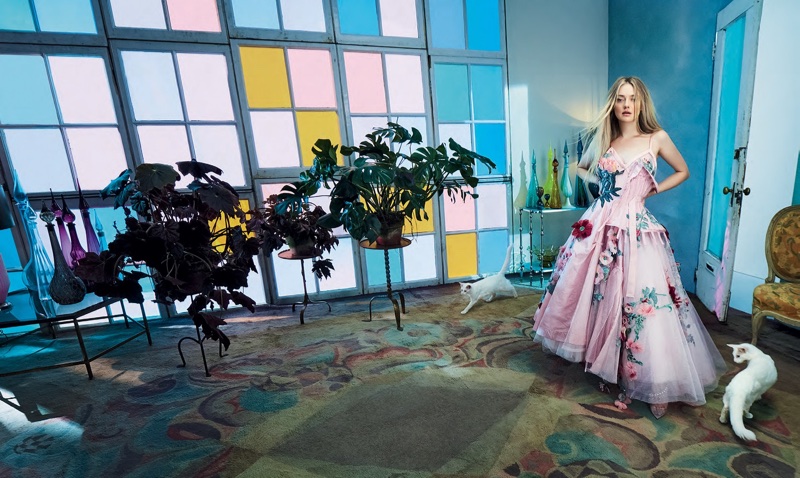 Looking pretty in pink, Dakota Fanning poses in Alexander McQueen gown
DAKOTA FANNING ON HER CONTROVERSIAL MARC JACOBS CAMPAIGN
In her interview, Dakota talks about the controversy surrounding her Marc Jacobs campaign when she was just 17-years-old.
"There are much more important things to talk about than what I'm wearing or not wearing," she says. "It's a waste of energy. I'd done things with Marc Jacobs before and [photographer] Juergen Teller is a friend of mine and when somebody tried to pollute that, I was just like: 'You're not going to take this away from me. This is so cool. It's girlie and pretty and I can wear that I want. If you're being creepy, then you have the problem.'"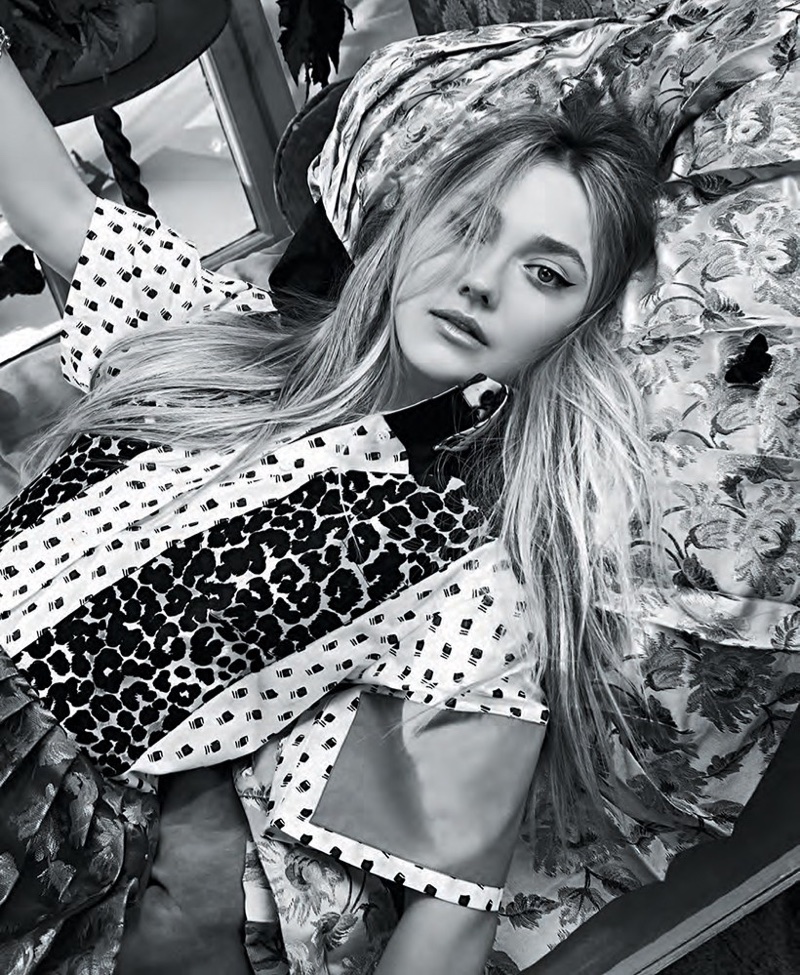 Actress Dakota Fanning wears printed ensemble from Prada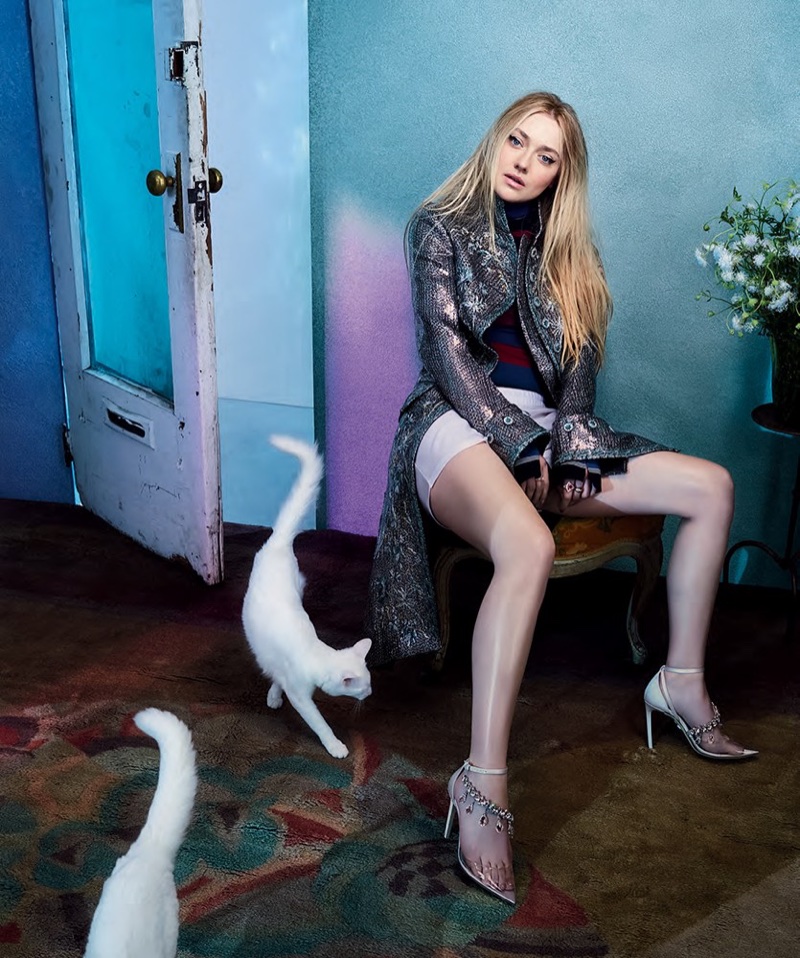 Actress Dakota Fanning poses in Louis Vuitton embroidered jacket, shirt and shorts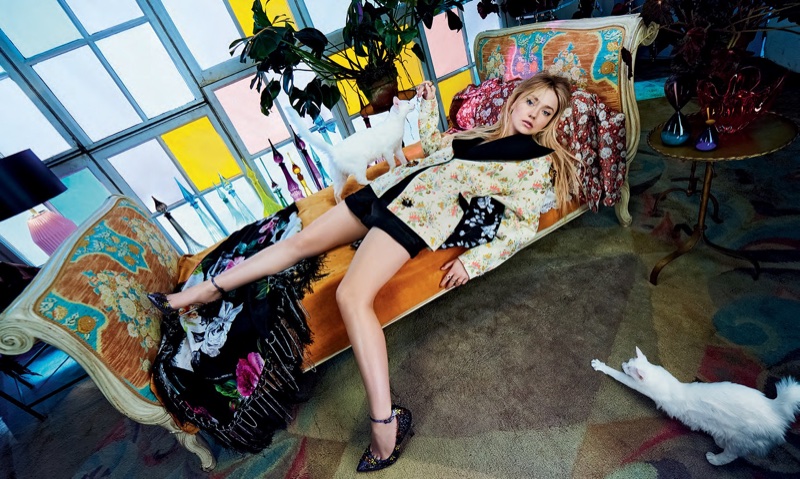 Laying down, Dakota Fanning poses in floral print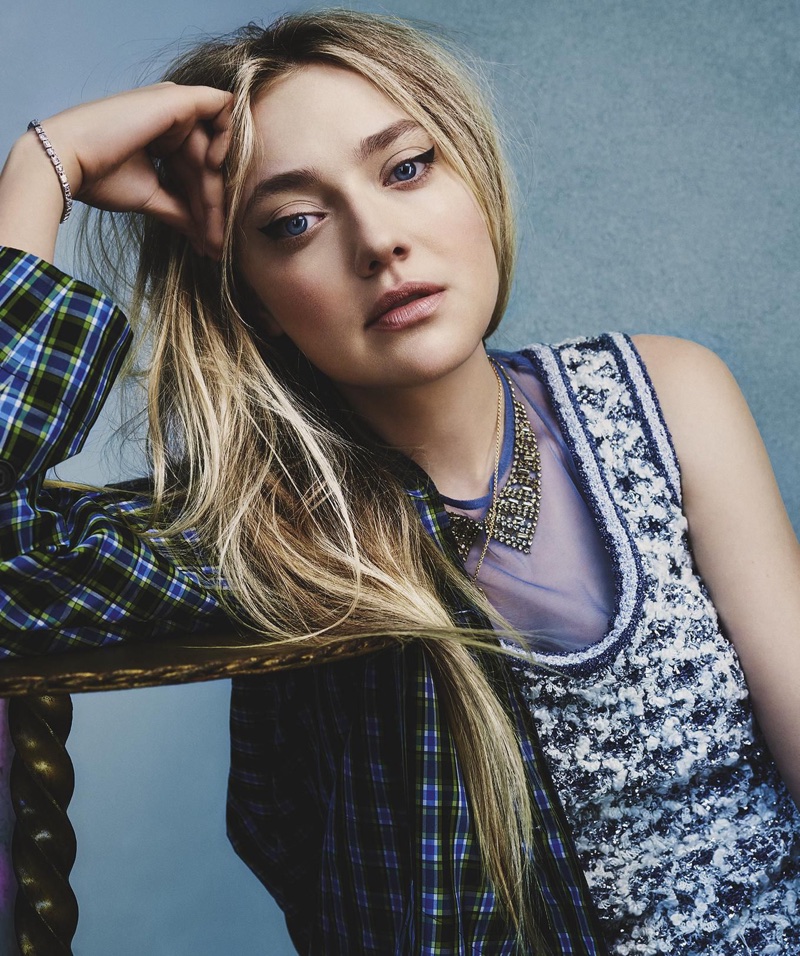 Ready for her closeup, Dakota Fanning wears tousled hairstyle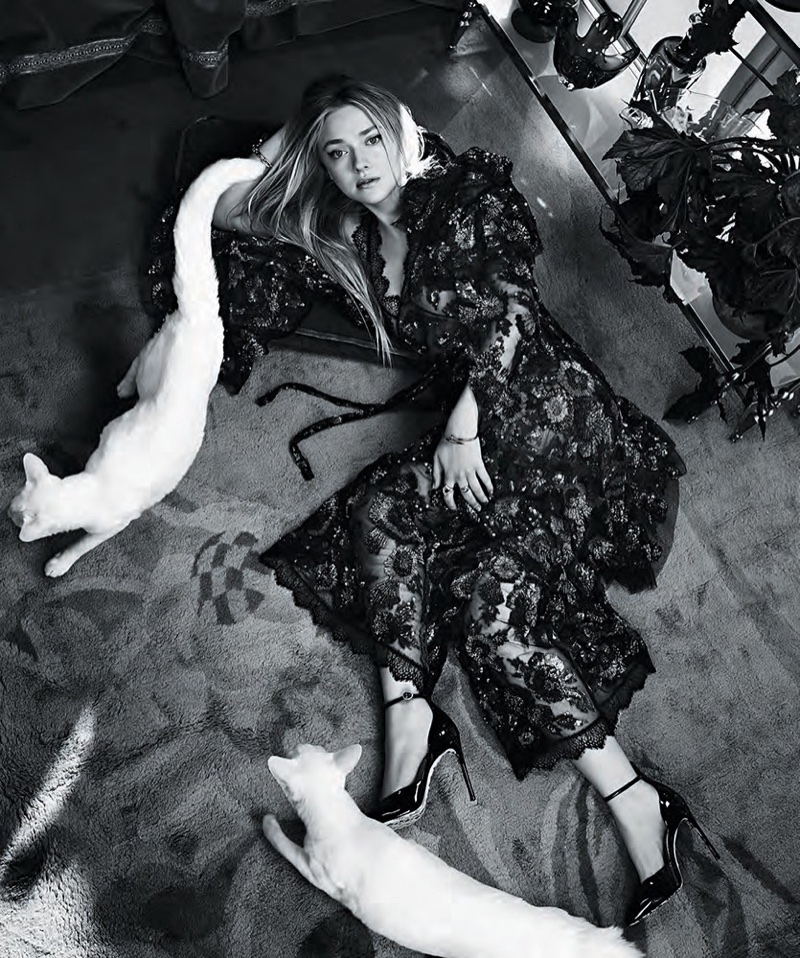 Photographed in black and white, Dakota Fanning wears embroidered gown
comnum(0) tbcount(0) tbcount(298)
Categories:
Other Brands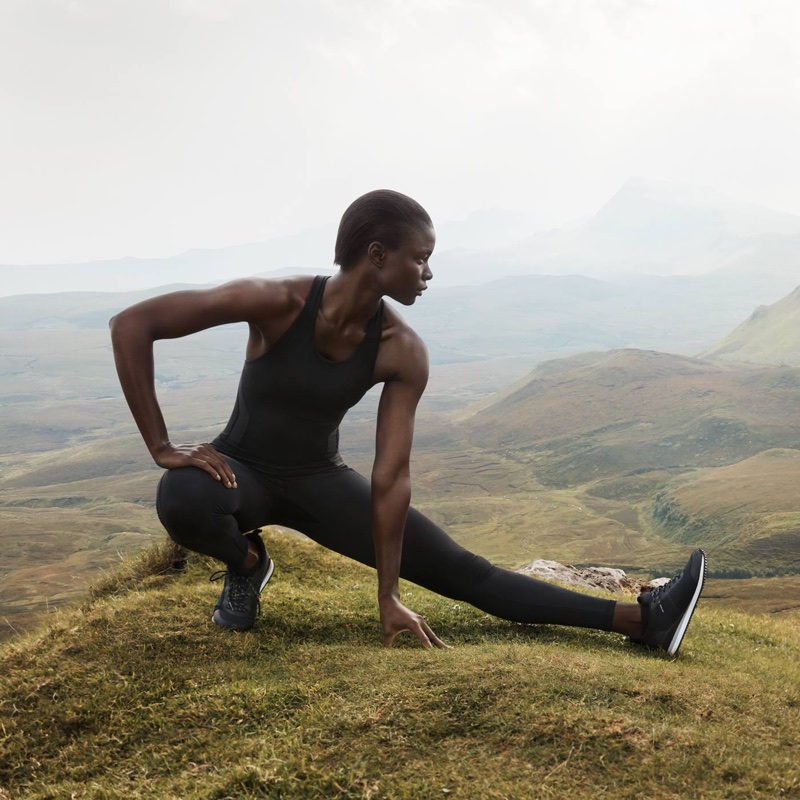 H&M Sports Jumpsuit
H&M continues its commitment to sustainable fabrics with the launch of its 2018 Conscious Sport collection. Heading outdoors, the campaign spotlights trendy activewear made from recycled polyester. Model Jeneil Williams shows off her toned figure wearing leggings, sports bras and cropped hoodies. Paired with mesh accents and colorful prints, H&M offers chic looks for those intense workout sessions.
Related: Perfect Pairing | 8 Spring Styles From H&M
H&M CONSCIOUS SPORT 2018 CAMPAIGN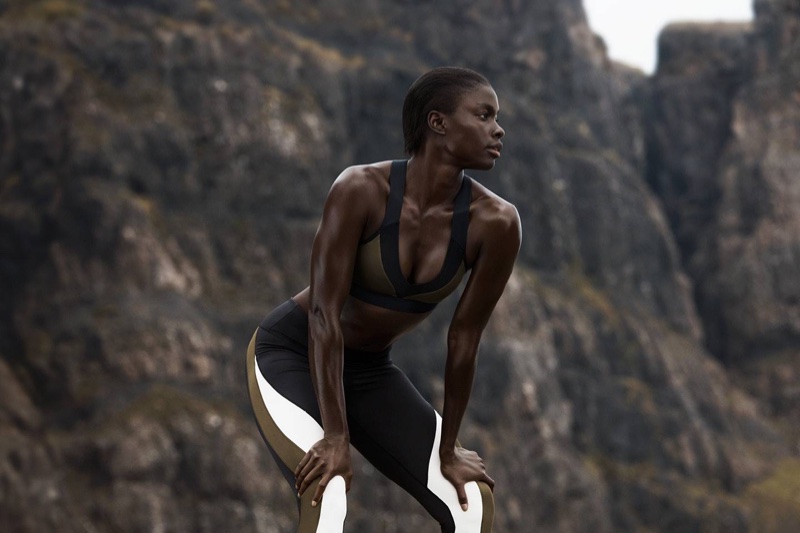 H&M Conscious Sports Bra with Medium Support and Sports Tights with Shaping Waist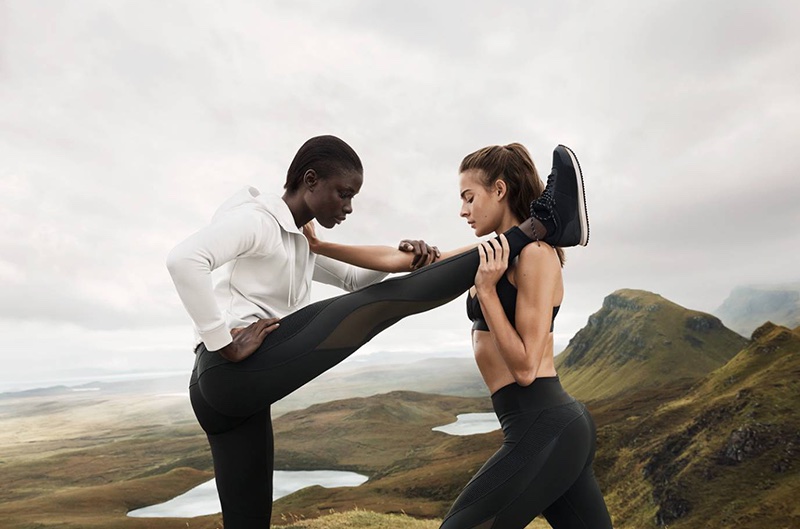 (Left) H&M Conscious Fleece Sports Top and Sports Jumpsuit (Right) H&M Sports Bra with Medium Support and Sports Tights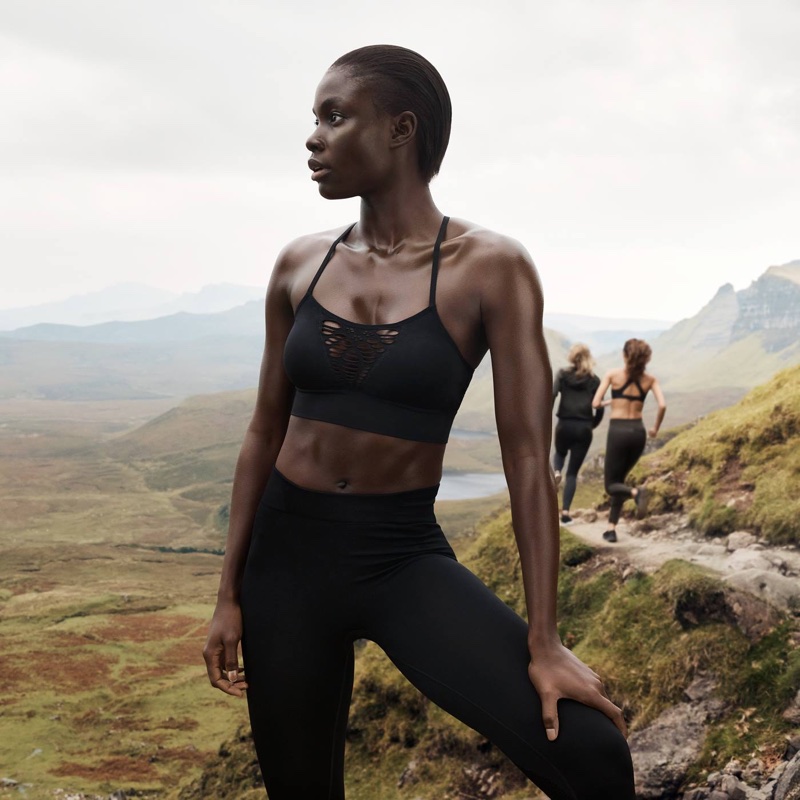 H&M Conscious Sports Bra with Low Support and Sports Tights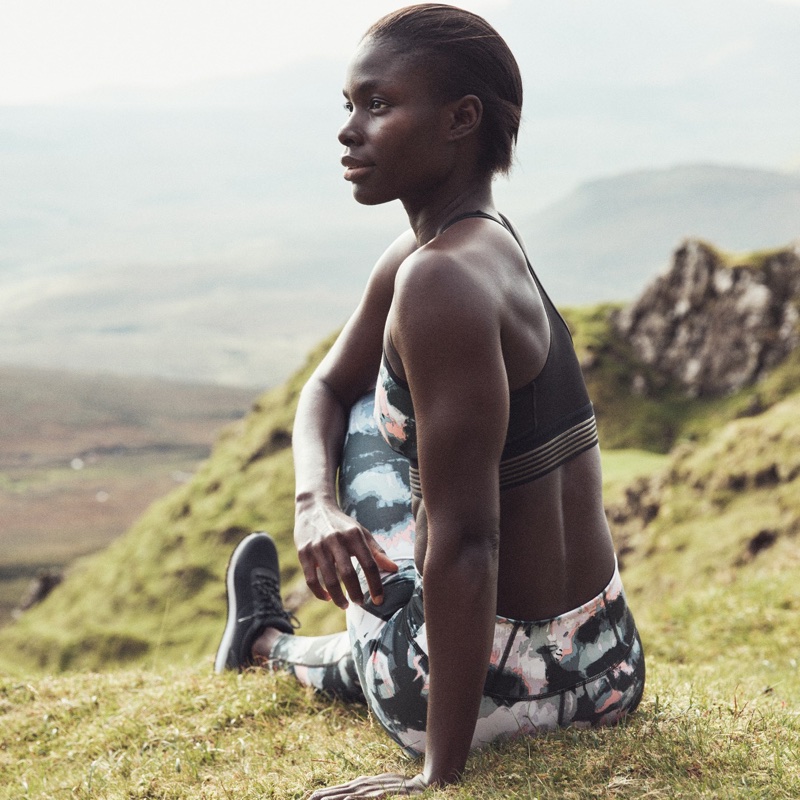 H&M Conscious Sports Bra with Medium Support and Sports Tights with Shaping Waist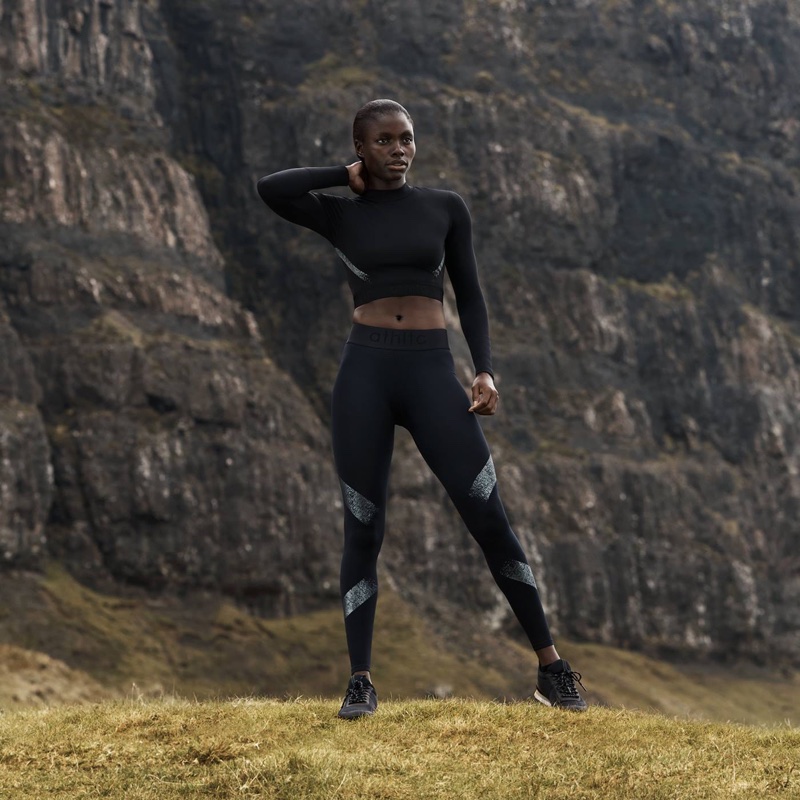 H&M Short Sports Top and Seamless Sports Tights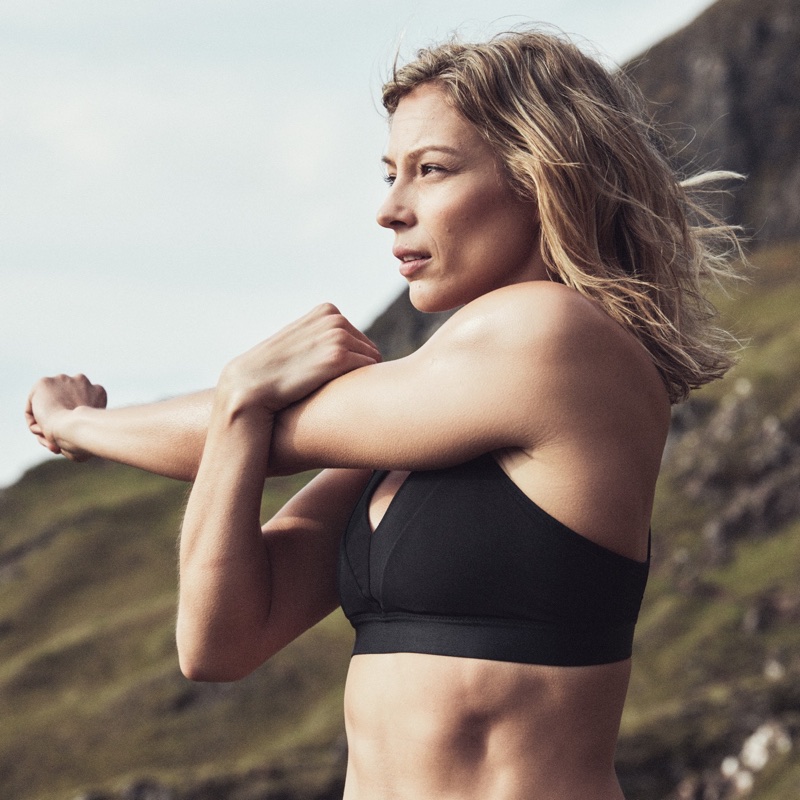 H&M Conscious Sports Bra with Medium Support
Categories

New Posts

Hot Posts